It's Just This Simple...Don't Sell Alcohol to Minors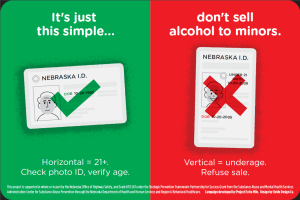 Through the regular use of compliance checks across Nebraska, many communities have seen the rate of businesses that sell alcohol to minors during those efforts drop over the years. However, alcohol sales to minors continues to be a concern. Results from checks consistently show that more than half of the businesses that sell to minors during compliance checks are checking the minor's ID and selling alcohol to the minor anyway. In an effort to educate and inform the management and staff of licensed establishments to prevent this practice, we've developed the It's Just this Simple campaign.
The It's Just this Simple campaign was designed to allow the message to come from many voices within the community. In collaboration with Project Extra Mile, organizations and businesses can create new ways to present the campaign in their community. To learn more about how you can partner with us on the campaign, contact info@projectextramile.org. Campaign materials can be ordered by completing and submiting the electronic order form below.